The Grieg concert hall should be your landmark in 'downtown' Bergen if you get airdropped by culturally boorish aliens in the middle of Norway. Edvard Grieg is both a local and international legend, famous for 'The Hall of the Mountain King', a very evocative piece (listen here: http://www.youtube.com/watch?v=xrIYT-MrVaI) which reminds you of ancient green lands, royalty, and a magnificent Court.


Bergen downtown itself  is a 20 min busride from the airport. a straight road with lovely multi-level wood houses on either side. Downtown itself is a dozen blocks this way or that, but impresses nonetheless, with the architecture (sans bluster) that the Scandinavians are famous for.
Met my old friend from back in Minnesota, Christoffer Baldersheim (a freshly minted Psychologist from the University of Bergen) after almost 8 years, and took a nippy walk to his apartment quite next to Grieg concert hall.  After quaffing the remaining graduation wine Chris introduced me to a unique Scandinavian concept - SNUS!
SNUS is an intense blast of tobacco stored in a mini teabag of sorts, super popular in Sweden and Norway, nearly banned in the rest of Europe. The tobacco is potent, and saltily so, and goes best with a drink or coffee, if you aren't used to it.



Bergen is ultimately a university town, a gateway to the fjords, a heritage site, and a quintessential European small town, with enough globe trotting Norwegians, and enough globe trotting tourists passing through it (noticed enough Japanese, Turks, East Europeans, Japanese and Chinese, other than the usual mainland Europeans).
The Architecture of Bergen is classic Norwegian, lots of individuality, lots of lovely woodwork and stonework, and a relief from the steel and glass that often grates my eyes in Bangalore.



The touristy 'center' of Bergen is the Bryggen area (Norwegian for Wharf), a World Cultural Heritage site, and the kind of place that sells miniature trolls and 'I love Norway' t-shirts, and supposedly fresh produce (which the locals assure me, is only for 'fresh' tourists). The Bryggen area also has a Hollywood connection. I'm told that some of the Narnia scenes were shot here, in the middle of the patchwork wooden buildings, which have been built and rebuilt (Bergen has experienced an oddly large number of fires in its history) since the Middle Ages.



Right next to Bryggen is the city center, a nice little agora with a view of lovely mountains on one side, and a church spire on the other. The center usually has bands playing everyday through summer, and i managed to catch a Navy band, in full glory. Its a great place to see people see other people, grab a snack and coffee, and bask in Bergen's rare sunny days.




If you keep walking around Bryggen you are assured to see a lot of ships headed towards the fjords, or ships just docked and hanging out by the water, and families having drinks and dinner on their little or giant boats. For land lubbers like me, it was heart warming to see the variety of boats and the outdoors lifestyle on the water.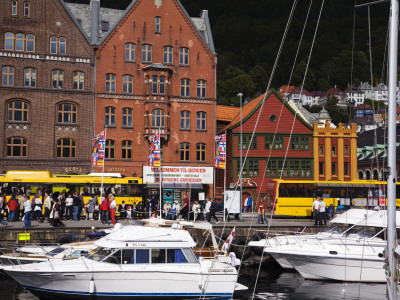 Bergen has a lovely mountain top, which Chris and I finally managed to get to after a long leisurely walk through the city. The walk is a great way to know the city from the inside, and see the less touristy residential areas, and get a deeper feel for how the Norwegians live.



The walk cuts through long winding roads, a bit of forest, and residential neighborhoods, and you see odd sights like the Monkey Howling tree, a pretty looking and dangerous embrace of thorns.


The views from the top is definitely worth a walk. A quick look from the top tells you exactly why Bergen is Norway's second biggest city. This is a small town with not more than a quarter million people, but an industrious and occupied small town, with enough business, education, and tourism to keep it humming.



There's a touristy tram which you can always take up the mountain trail and back, but the walk up is rewarding in a way that makes you tired and satisfied at the same time!




Bergen also has interesting museums including the Industry Kunst musem (Kunst = Art), a great collection of silver jewellery designs, furniture, and apparel. Enough to whet your appetite for the larger and more famous museums in Scandinavia.

Bergen is also certainly the MOST expensive country in the world. $7 for a half litre bottle of water. $6 for 3 buns at the local 7/11. $5 for a black coffee. Never mind the rates of alcohol and cigarettes. $75 for two regular pizzas and a bottle of coke. I've joked with people that coming from India, i've had to convert from Norwegian Krones to US dollars to make things seem less expensive!


Ultimately, Bergen is a great destination if you want a relaxed tourist experience and introduction to Scandinavia. It has stunning landscapes, beautiful people who know how to work hard, stay fit, and have a good time. Great views, lovely to walk through, and a far cry from the hustle bustle of other major European capitals.